Roof Deck
The rooftop deck at 319A offers comfortable seating, an outdoor grill and a dining table that seats ten. Views to downtown Boston, Fort Point Channel and beyond enhance the experience.
Zebrawood Cabinets
Zebrawood cabinets are elegant, durable, and add striking pattern to the modern kitchens.
Sophisticated Lobby
The artful, boutique-style lobby has exposed timbers and original tinned shutters, an expansive glass curtain wall, a dramatic chandelier, and comfortable modern seating.
Sleek, Modern Finishes
With honed granite countertops, glass tile backsplash, polished chrome fixtures and slate tile in baths, modern finishes add sleek, luxe details.
Covered Drive-Through
With so much within walking distance, you'll rarely need a car. But when you do, hop in or out of your ride beneath our covered drive.
Soaring Windows
Residences are flooded with natural light and ample views through paned, single-hung 9-foot high windows.
On-Site Restaurant
The ground floor of 319A features an on-site restaurant by the team behind the renowned Ceia Kitchen + Bar of Newburyport.
Exposed Brick & Beams
Exposed brick and beams bring warmth, distinction and a touch of history to the residences.
Bike Storage
Whether you're a daily cycler or a weekend biker, the indoor bike storage system makes it easy to access and secure your ride.
City Views
Select residences offer stunning views of Fort Point and Downtown Boston, and all residents enjoy views of Boston and beyond from our rooftop deck.
Resident Storage
Secure storage space is available in the basement of the building.
Professionally Managed
The team behind 319 A has developed and managed thousands of first-class, luxury condominiums in the Boston area
...with only 48 lofts, this unique property combines modern design with authentic historic details to reflect the individualistic and creative persona of today's Fort Point....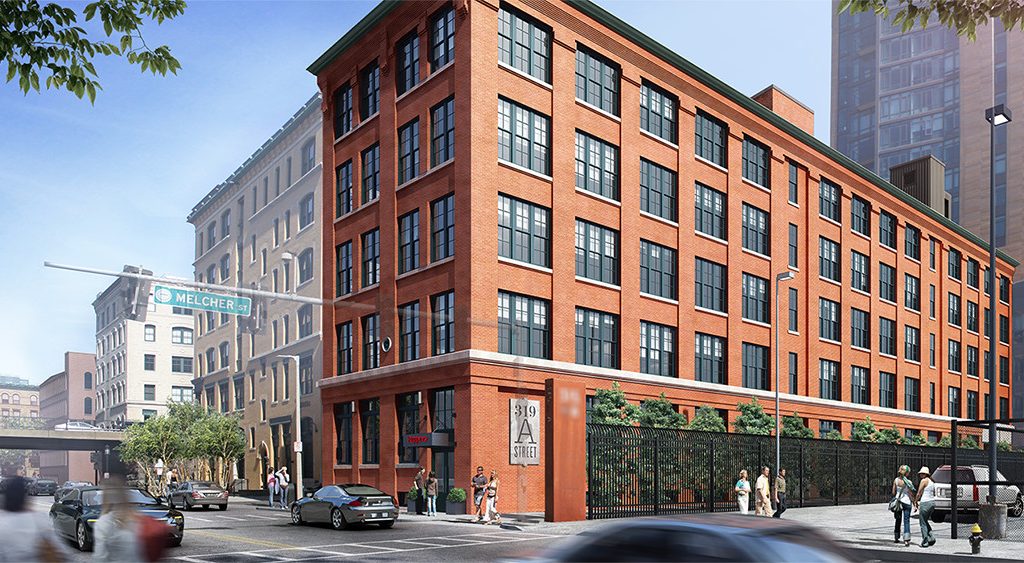 CONDO PRICES

Studios: $525,000+
One Bedroom $735,000+
Two Bedrooms $1,200,000+
Three Bedrooms Penthouse: $2,787,000+
RENTAL PRICES

Studios: $2,200+
One Bedroom: $2,500+
Three Bedrooms Penthouse: $12,000+
319A provides sophisticated loft living in 48 modern, luxe residences. Kitchens and baths combine the durability of original industrial detailing with the functionality of updated systems. Soaring windows and high ceilings flood the interiors with natural light, while exposed brick and original wood beams infuse the residences with history and place.
Location
Located in the heart of Fort Point, 319A's curated amenities & luxe features cater to residents' needs. The rooftop deck offers an alfresco escape and views beyond the channel, while the covered drive-through helps you stay warm & dry on even the coldest days. In residences, polished chrome fixtures, zebrawood finish cabinets and honed black granite countertops create a distinctive, contemporary urban feel.