Boston Seaport Plans To Add Flood Barrier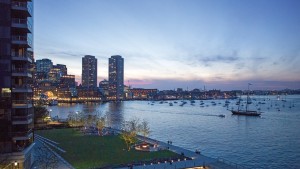 Boston officials have submitted plans for a flood barrier($20.5 million) that would hold back Fort Point Channel waters from flooding the Seaport District during oceanfront storms.
A 6-foot-tall, 45-foot-wide berm would be built from 15 Necco St. to Dorchester Ave, protecting 31 buildings, according to an environmental notification form by the Boston Planning and Development Agency.
The plans by engineers Woods Hole Group also include interim flood barriers that would be temporary installed during storms at the western end of Necco Court, and under the Summer Street overpasses at A Street and the West Service Road.
The 2,090 ft long barrier would be constructed in 3 phases, beginning with a 729 ft long segment from 15 Necco St. to the southern end of the Gillette  pumphouse.
The project will require approval from 10 different local, state and federal agencies and would take approximately 2 years to be completed.